A former U.S. Marine gunner who may have suffered from post-traumatic stress disorder burst into a Thousand Oaks bar packed with college students late...
A former U.S. Marine gunner who may have suffered from post-traumatic stress disorder burst into a Thousand Oaks bar packed with college students late Wednesday night, tossed a smoke bomb into the crowd and opened fire, authorities said.
Eleven people were killed, along with a sheriff's sergeant responding to the scene who was gunned down by the assailant minutes later.
The Borderline Bar and Grill was hosting line-dancing lessons for college students as young as 18 on Wednesday night. Crowds of young people, including parties for two women celebrating their 21st birthdays, were drinking and dancing when the crack of gunfire echoed through the cavernous room about 11:20 p.m.
Terrified patrons scrambled for cover as smoke and bullets filled the room. Some hid behind pool tables and in bathroom stalls, crouching as they tried to call and text their loved ones. Others used bar stools to break the club's second-story windows in an attempt to jump to safety.
Nellie Wong's friends at Cal State Channel Islands in Camarillo had surprised her Wednesday night and taken her out to celebrate her 21st birthday. As the shooting started, she dived to the floor and hid behind a group of tables and bar stools, squeezing her nose closed with her hand to avoid choking on the smoke.
"I immediately stopped moving, stopped breathing," said Wong, who still wore a bright pink cowboy hat and a "Happy Birthday" sash. "Thank goodness, he didn't see me at all."
The shooting left 12 people dead and 18 others injured, some who were hurt trying to escape. The severity of their injuries was not immediately known, fire officials said. The gunman also died of a gunshot wound, possibly self-inflicted, authorities said.
Suspected shooter Ian David Long, 28, lived in Newbury Park, five miles from the dance hall, officials said. He drove his mother's car to the Borderline on Wednesday night and did not say anything before opening fire, a law enforcement official said.
Long was a decorated gunner in the U.S. Marine Corps, reaching the rank of corporal, and served an eight-month tour in Afghanistan during his five years in the service, according to the Department of Defense.
Neighbors on the quiet street where he lived said they were aware that Long may have been disturbed. Deputies who were called to Long's home in April for a complaint of disturbing the peace said he was acting irrationally, according to Ventura County Sheriff Geoff Dean. Mental health workers decided he did not meet the standard for an emergency psychiatric hold.
Around 1:30 a.m. Thursday, dozens of people lined the sidewalk on Moorpark Road near the bar as emergency lights flashed in the darkness. Employees and bar patrons huddled together, crying, hugging and asking each other whether there had been word on their loved ones who were still inside.
Residents of Thousand Oaks said the attack had shattered their view of the suburban area as safe. Several teenagers said their parents were comfortable sending them to Borderline, next to a golf course and the 101 Freeway, because it was familiar and safe.
"This is not something that happens in Thousand Oaks," said Capt. Garo Kuredjian of the Ventura County Sheriff's Department. "Thousand Oaks is one of the safest communities in the United States. For something like that to hit us on our doorstep is devastating."
This is the second time this year Thousand Oaks has seen violence in a crowded area. In March, a man shot and killed his wife before attempting to shoot himself at the Thousand Oaks Mall.
"It doesn't matter how low your crime rate is … there's no way to process," Dean said. "There's no way to make sense out of the senseless."
The barn-like bar, with live music and dancing, is a popular gathering spot for country music fans in Ventura County. Its patrons flock to the annual Stagecoach country festival in Indio, witnesses said, and some were also survivors of last year's mass shooting at the Route 91 Harvest Festival in Las Vegas that left 58 dead.
Sheriff's Sgt. Ron Helus and a California Highway Patrol officer entered the bar by 11:26 p.m., six minutes after the shooting was reported, officials said.
Helus had been talking to his wife on the phone, as he often did during a shift, when he received a radio call about the shooting, Dean said. Before he rushed to the scene, he told her, "Hey, I gotta go handle a call. I love you, I'll talk to you later."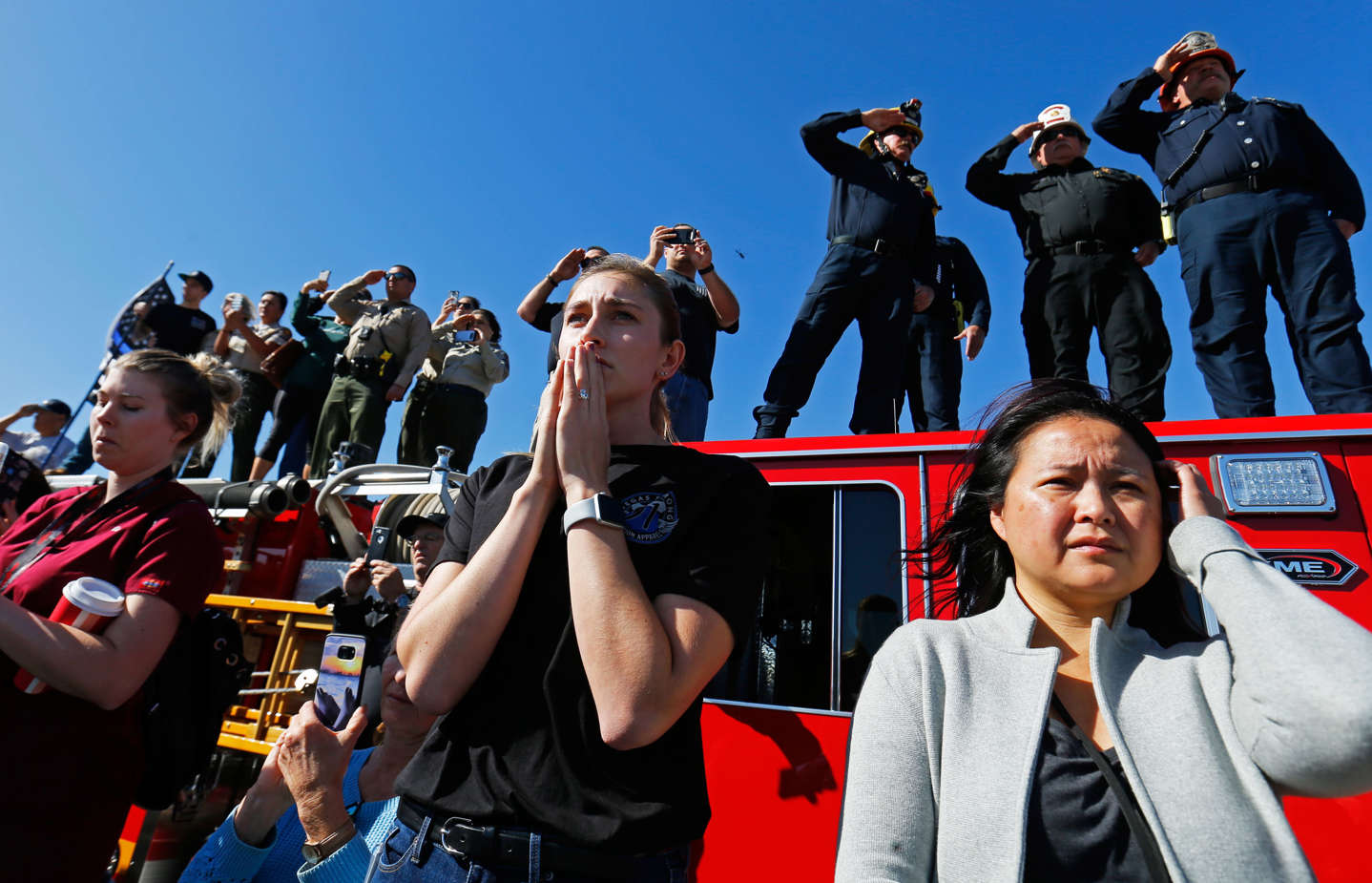 The gunman shot Helus multiple times as he entered the bar, Dean said. He died early Thursday morning at an area hospital, leaving behind his wife and a son. He was a 29-year veteran of the department who planned to retire in a year to two.
When a second group of officers entered the bar 15 minutes after the first exchange of gunfire, Long was already dead inside an office adjacent to the entry, Dean said.
The shooter was armed with a Glock 21 .45-caliber handgun that he purchased legally in Simi Valley, Dean said. But officers said it was likely that he had modified the gun with an extended magazine because typical handguns carry only 10 bullets.
A motive in the shooting was not immediately clear, Dean said. Officers with the FBI and the Bureau of Alcohol, Tobacco, Firearms and Explosives also were on scene.
"We have no idea if there is a terrorism link or not," the sheriff said.
Matthew Wennerstrom, a Borderline regular, said he had been inside for an hour when he heard gunfire. He pulled as many people as he could to the floor and under a pool table, tried to quiet the people around him and count the shots.
When the gunman stopped shooting, possibly to reload, Wennerstrom enlisted others to help smash some of the bar's windows with chairs, hoping to escape before the next volley of gunfire came.
"All I could think about was how helpless I was," Wennerstrom said.
Large crowds formed outside the Borderline early Thursday morning as friends and family arrived seeking news about their loved ones. Some made desperate phone calls, seeking information about people still inside. Others read out the names of their friends on live television interviews.
Carl Edgar, 24 of Tarzana said he had about 20 friends inside the bar, where he is a regular. He tried to reach them early Thursday, but couldn't contact everyone. Edgar reasoned that they may have turned off their phones "to be safe," he said.
"A lot of my friends survived Route 91," Edgar said. "If they survived that, they will survive this."
A hotline has been established for those seeking information about loved ones at (805) 465-6650. A family reunification center also was established at the Thousand Oaks Teen Center, where Mayor Pro Tem Rob McCoy was seen around 3:30 a.m.
McCoy embraced one couple as they walked up. Inside, he said, the mood was "somber" as loved ones waited for news.
Adam Housley, who until six weeks ago was a national correspondent for Fox News, arrived at the nearby Los Robles Regional Medical Center around 3:30 a.m., searching for his niece. A guard told him the hospital was locked down and that he would not be allowed inside.
His niece Alaina, an 18-year-old Pepperdine University freshman, was at the bar with several friends, he said. Her Apple Watch and iPhone still showed her location as being on the dance floor. Housley's family is small and tightknit, he said, and they were desperate for news.
"My gut is saying she's inside the bar, dead," he said. "I'm hoping I'm wrong."
Housley said he knew the grim reality of being a journalist on the scene after a mass shooting, saying: "You just don't think that — same stupid quote — you just don't think it's going to happen to you."
Tim Dominguez, who has been going to Borderline for 16 years, said he wouldn't normally go on a Wednesday because it's college night. But his 26-year-old son wanted to go and shoot pool.
Dominguez said they were preparing to leave when he heard shots and saw the bouncer collapse. Then the gunman turned to the right and "kept on shooting," firing rapidly toward a crowd of about 40 people on the dance floor, he said.
"He was good at it," Dominguez said, "like he knew what he was doing."
Dominguez said that as he and his son ran from the bar, they yelled for people to get down. Though both of them are safe, Dominguez is wrestling with what he could have done differently.
"I feel guilty that I left," he said. "That guilt that I could have done something more."
UPDATES:
10:40 a.m.: This article was updated with additional details about the gunman and the scene from the shooting.
8 a.m.: This article was updated with information about the gunman.
6:05 a.m.: This article was updated with additional details and witness accounts.
5:15 a.m. This article was updated throughout with additional details and background.
4:30 a.m.: This story was updated with details about the shooter and additional witness accounts.
2:45 a.m.: This story was updated with additional details from the Ventura County Sheriff's Department.
2 a.m.: This story was updated with more details and fatalities.
1:25 a.m.: This story was updated to raise the number of wounded from 7 to 11.
1:05 a.m.: This story was updated with comments from the scene and the number of people shot.   — LA TIMES